Switchvox: The Turnkey Asterisk IP PBX
Users and customers frequently ask why Digium offers both the free-and-open Asterisk engine and the commercial Switchvox IP PBX solution. The answer is simple: they have very different purposes and are geared towards very different audiences.
Asterisk is built by and for communication systems developers. It is an engine that handles all of the low-level details of initiating, maintaining and manipulating calls between endpoints (phones). Digium's Switchvox IP PBX is a turnkey phone system based on the Asterisk engine, and is administered through an easy-to-use graphical user interface (GUI), rather than raw configuration files and custom scripts.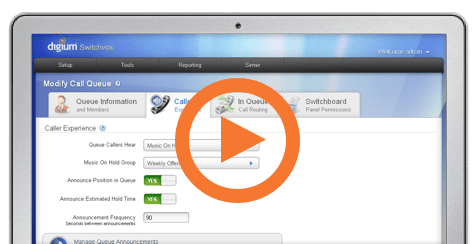 Compare building a custom Asterisk solution vs deploying a turnkey phone system built on Asterisk.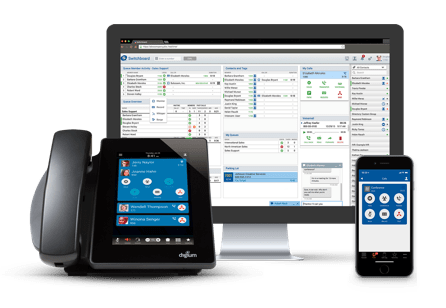 Should I Deploy Switchvox?
Switchvox is a powerful, easy-to-install, easy-to-maintain, affordably priced phone system. It includes all of the standard features you would expect in an IP PBX, plus Unified Communications capabilities like advanced voicemail messaging, instant messaging, call control, multi-party conferencing and advanced auto-attendant/IVR. While these capabilities are available in Asterisk, you must have the knowledge, skills, and time to turn them from programming scripts to functioning solutions.
Easy Administration
With Switchvox, there are no command lines or complicated scripts to decipher. Switchvox features an easy-to-use browser-based GUI that enables administrators to perform even the most complex tasks quickly and efficiently. The Switchvox admin portal includes drop-down menus, quick links, and in-GUI help buttons.
Intuitive User Interface
Every Switchvox user has access to a browser-based portal that gives them control over their communications. With the Switchboard, users can click-to-dial, click-to-transfer, move calls to parking lots, view their co-worker's status, and much more.
Mobility
iPhone and Android users can enjoy the advanced features of Switchvox on their mobile device with the Switchvox Softphone App. It allows them to work from anywhere, anytime. And, best of all, the app is free.
Call Center Features
Call queues, auto-attendants/IVRs, wallboard widgets, custom sounds, Music on Hold, and more are all standard in Switchvox. These advanced features can be configured with just a few clicks, so your in-house call center is up and running in no time.
Choose Switchvox for a simple solution with no coding required.
Visit the Switchvox Demo Center to learn more.